So, how do you get workers' compensation benefits? Here, we share the basics about the amount of compensation and how it is paid to employees. You've suffered a work-related illness or injury, and you were forced to miss work. For many people, this is a worrisome situation. Missed work and lost wages can have a significant and immediate effect on families and lifestyles. It is natural to want to know what to expect from the workers' compensation system. It is possible to receive compensation fairly quickly to minimize any unnecessary burdens on the injured worker and his family.
Workers' Compensation Benefits Are Offered Weekly
An injured employee is entitled to workers' compensation benefits if he sustains an injury that causes him to miss more than three days of work due to that injury. Benefits begin on the fourth day and will continue until the employee has returned to work or has been cleared by a doctor as capable of returning to work.
Payments begin on the 11th day following the injury. If payments are late, the injured worker can be entitled to additional penalty compensation. Typically, the initial three days are not compensated. However, if the injury or illness causes the employee to miss more than 14 days of work, those three days will be paid. These payments cover lost wages, medical bills, and payments for vocational rehabilitation if appropriate.
How Much Do You Get Paid From Workers' Compensation If You Get Injured At Work?
Workers' compensation benefits cover all medical expenses related to workplace injury and illness, including doctors' and hospital bills, medications, necessary supplies or devices, rehabilitation treatment, and even the cost of transportation to and from appointments. These costs are fairly easy to calculate, as they can be determined by adding up the appropriate bills.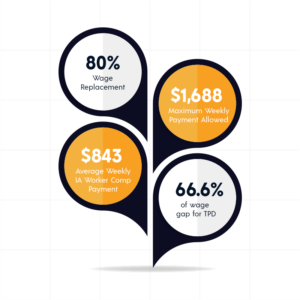 Additionally, the system offers wage replacement. These benefits do not cover the full amount of a lost paycheck, but the compensation is based on a portion of what the employee was earning at the time of the accident. In Iowa, wage replacement is typically offered at 80 percent of the employee's weekly spendable earnings, with a maximum of $1,688 per week. According to the state commission, the average weekly workers' compensation payment is $843 per week. When calculating these payments, the commission does not include bonuses, overtime, expense reimbursement, expense allowances, or retroactive pay.
For employees who are eligible for temporary partial disability, the compensation is calculated differently. These workers have returned to work, but they have not fully recovered and have returned to lesser paying duties. In Iowa, these employees are entitled to benefits to address the gap in their wages. This benefit is calculated at two-thirds (66 2/3 percent) of the difference between the pay before the injury and the pay after. The three-day waiting period applies to these situations, as well.
Unfortunately, there are times when the employee's injury or illness results in death. The surviving dependent family member may be eligible for death benefits from the workers' compensation system. Children can receive payments until age 18 or age 25 if dependent. A surviving spouse can receive payments for life or until he or she is remarried. The family may also be eligible for compensation for burial expenses up to set limits.
Ensuring Prompt Approval and Payment of Benefits in Iowa
When you are hurt on the job, you need to act in a timely manner. Injured employees should report their injuries to their employers as soon as possible. Not only does this set up a strong case, but it also allows the system to begin the process of paying benefits as quickly as possible. Iowa employees have 90 days from the date of the injury to report that injury to their employer, and any claims filed after 90 days could be denied regardless of merit.
If you or someone you love has suffered a work-related injury in Iowa, an experienced work accident lawyer at the Pothitakis Law Firm may be able to help. Our dedicated legal team can help you understand your rights and ensure that you are able to obtain the benefits you deserve. Request a copy of our free book, 7 Things You Must Know if You Get Hurt at Work, today to learn more.
Related Links: